FICTION
Southern Novels
The Bottom Rail
AWARDS
SEMI-FINALIST IN THE GEORGIA AUTHOR OF THE YEAR FOR FIRST NOVEL, 2013.
Also a winner in two literary festivals, this novel was selling even before it hit the book shelves in December, 2013.
Three brothers, all bootleggers, moved into Middle Georgia in 1931 and battled the depression by adding cattle rustling to their resume. By 1946 their activities branched out to various crimes—without punishment.
Semi-finalist, Georgia Author of the Year Award
PRAISE FOR THE BOTTOM RAIL
"It's a real page turner. I have to tear myself away from the book to get my actual paid work done."
Written on my Facebook page by a N. Arizona U. college professor
"Great book. I read it in one day—couldn't put it down."
Robert Preston of Atlanta, Georgia
The Bottom Rail is a Southern novel that makes Tobacco Road read like a Sunday School lesson. Lindsley's innate ability to portray Southerners is in evidence throughout the book as the Carter family climbs up and down the rails of Lindsley's metaphorical ladder.
The Bottom Rail supplies the reader with everything from murder and serious bootlegging to 1946 Georgia politics, as dirty as it gets. The pages almost turn by themselves.
Move over Erskine Caldwell and make room for Susan Lindsley.
Cappy Hall Rearick, Southern Humorist and Columnist
Author of The Road to Hell is Seldom Seen
The Bottom Rail captures the gritty essence of the rural South in the immediate wake of World War II in this panoramic tale of love, betrayal, lynchings, chain gangs, moonshining and murder. It's an "Old South" you won't forget.
H. W. "Buzz" Bernard, Best-selling author of Eyewall, Supercell and Plague
Susan Lindsley's award-winning novel The Bottom Rail takes us back in time and place (the rural South) to the world of Harper Lee's To Kill a Mockingbird—only this time the story is told from the point of view of the Ewells, represented by the Carter family. Abandoning their stills in the Appalachians, the Carters migrate to Georgia during the Great Depression to get a new start as farmers. But they discover early on that bootlegging is far more profitable than farming as long as the sheriff refuses to raid their stills. The family includes bootleggers, cattle thieves, lynch mobs, murderers, and a one-armed war veteran who manages to wrest power from the county commissioner by stealing an election in precisely the way the commissioner himself would have stolen it if he had been given the chance. The Carters may be uneducated, racist law-breakers, but they are never dull. They are lusty, loyal to one another, and always resourceful. Although they arrive in Georgia as the bottom rail of the title, they manage to end up as top rail by virtue of determination, ruthlessness, lawlessness, and the basic intelligence of one of their own—Virgil—who finds a way to power in spite of the odds, some self-imposed, against him and his family.
Susan Lindsley writes with a sure hand, conveying not only her love of the South, despite its historic flaws, but also the language nuances of its rural areas. She portrays its people, black and white, complete with both beauty spots and warts, with honesty and affection. Her story is compelling, drawing the reader from one event to another, from a love scene to a lynching to a (literal) shotgun wedding, with clarity and brutal candor. Once you begin to read, you won't put it down.
June Hall McCash, Winner, Georgia Author of the Year for novels Almost Eden and Plum Orchard
---
When Darkness Fell
WON THE "YOU ARE PUBLISHED" CONTEST SPONSORED BY THOMASMAX PUBLISHING IN 2014.
What a thrill!! From 2001 to 2014, from typewriter to computer, from a thousand-page monster to a tightened published novel and a first place finish on a national scale! The Independent Book Publishers selected my novel WHEN DARKNESS FELL as best Regional Novel for 2015. That is FIRST PLACE in my category.
Reviewers who commented for the book cover compared my writing with that of Eudora Welty, Erskine Caldwell, Flannery O'Connor, Carson McCullers and Rick Bragg.
Fiction writer and teacher Cecil Murphey (on The New York Times best-seller list for 90 Minutes in Heaven and other books) judged the novels first-chapter manuscripts at the Southeastern Writers Workshop and gave When Darkness Fell top honors when the book was just underway.
ADDITIONAL AWARDS
First Place, Regional Fiction, Next Generation Indie Book Awards
First Place, Novel, Southeastern Writers Association
Nominated for Georgia Author of the Year for a Novel in 2014
PRAISE FOR WHEN DARKNESS FELL
In a dark Southern, post-WWII tale, Susan Lindsley keenly uses dialogue and setting to drop us uncomfortably into the 1940s, taking the reader to a time when people looked over their shoulder and kept their thoughts to themselves for sins that never should have been sins.
C. Hope Clark, author of The Carolina Slade Mysteries and The Edisto Island Mysteries
Susan Lindsley writes in the tradition of the South's best: Caldwell, O'Conner, McCullers and Bragg. She writes about a time and place you had to grow up in, to know, and honey, she knows. For writing you won't believe, can't put down and will never forget, dig into When Darkness Fell.
Peggy Mercer, Ga. Author of the Year, 2011 for Peach When the Well Run Dry.
"In a first person narrative with musical prose that feels as if the stories of her characters are being whispered in your ear, Susan Lindsley has created a tale of the south–of families and forbidden loves, of all things southern–that will echo in your heart long after you finish the book. In a voice reminiscent of Eudora Welty, Lindsley creates characters that resonate and scenes as real as frost on the Georgia kudzu. This is a writer who deserves to be heard."
CD Mitchell: Award winning author of Alligator Stew and God's Naked Will.
Compelling, realistic look at post WWII life in the deep South when racism ruled the lives of everyone, even those few whites who resented and fought against such hatred.
Ken McKowen, Managing Editor, Publishing Syndicate LLC
Short Story Collections
Finding Bigfoot and Other Stories
FROM THE AUTHOR
I am delighted to say that this collection of short stories took first place in the ThomasMax Publishing literary contest. So thank you, Lee Clevenger and Preston Ward, for this honor.
PRAISE FOR FINDING BIGFOOT
"The short story is alive and well, especially in the capable hands of veteran author Susan Lindsley. I couldn't resist turning the pages of her latest book, intrigued by what lay in store. I wasn't disappointed. Susan gives the reader a heavy-handed dose of good ol' Southern humor, a few haunting tales, and lots of poetic justice. My favorite passage: "The weight of the silencer didn't hinder her aim." To which I add: The weight of Susan's words is downright astonishing."
Jedwin Smith, author of Our Brother's Keeper and I Am Israel — Lions and Lambs of the land, and twice nominated for the Pulitzer Prize.
AWARDS
Finalist, Next Generation Indie Book Awards
---
Emperor of the United States of America
This collection of short stories, which never stints in a harsh reality, is spicy, smart, and entertaining.
Steve Berry, international and New York Times best selling author of the Cotton Malone series and four standalone novels. Into 40 languages and 51 countries.
An award-winning author, Susan keeps on hitting literary home runs. Her writing is like springtime and a chilling storm combined, with lightning striking in paragraphs and thunder in the distance …tight pacing and seat-of-your-pants cliffhangers even within paragraphs.
Peggy Mercer, Best selling Author and Georgia Author of the Year, 2011.
I was completely captivated with Susan's new collection of short stories. In the tradition of Flannery O'Connor, Lindsley's dark and sometimes unsettling stories had me hooked. With each twist and turn, I was entertained from the first page to the last.
Dana Ridenour, retired FBI agent, novelist and author of Behind the Mask and Beyond the Cabin.
Susan's book is a brilliant collection of award wining, thought-provoking, mind-awakening short stories. Black humor ranging from believable to unimaginable grips the reader both emotionally and psychologically. A change of pace comes with "not politically correct" humor and tales that tug on the heart strings. The impression lingers of a present day "1984" blended with slices of Stephen King. The reader will be tempted to read the entire book at one sitting although superb enjoyment comes from savoring each story.
John C. House, author of numerous books, including So Shall You Reap and Uncommon Bond as well as Trail of Deceit.
---
Whitetails and Tall Tales
AWARDS
Finalist, Next Generation Indie Book Awards
PRAISE FOR WHITETAILS AND TALL TALES
Like the sharp report of a rifle somewhere off in the woods you're walking through, these stories will snap you to attention. Lindsley's stories ring with the clarity of an October morning in the piney woods of the deep south. Their language cuts to the bone of what needs to be said: "Just go back to sleep, will ya," grumbles one half of the Midnight in the Marriage dialogue. Once you dive into Lindsley's stories, you'll likely not sleep until long after midnight, when you'll put the book down with a sigh of regret that you've finished it.
Dana Wildsmith, Educator, poet, author, Back to Abnormal and Jumping
A woman of the fields, of the earth, and of the red Georgia clay, Susan shares her enthusiasm for hunting and fishing, and guides us into the woods. As she leads us into the world of wild turkeys, foxes, elk, and deer she reminds us of our God-given dominion over the beasts of the field, and the respect we must have for them. Her southern dialect filters through the good red earth and oozes poignancy onto the written page.
Janet Sheppard Kelleher, author of ​Big C, little ta-ta: Kicking Breast Cancer's Butt in 7 Humorous Stories, Amazon best seller.
A captivating collection of short stories is authored by an obviously experienced lover of the great outdoors! Good, enjoyable reading.
Joe, AKA Dick Flood, wildlife host, folk hero, songwriter, educator and Emmy Award winner.
---
Tales Over Time
PRAISE FOR TALES OVER TIME
Tales Over Time is a collection of stories imbued with the true essence of the South and Southern life, by an author who has obviously spent time observing and recording that life. Themes range from 'best laid plans don't always work out' to 'love isn't just a human trait' to 'value isn't the same as worth'. If you love to read true stories of the real South—and as every Southerner knows, truth is often, if not always, in the eye of the beholder—then these are the stories for you.
K.G. McAbee, Author of numerous short stories and several books, Artist in Residence with South Carolina Arts Commission. https://www.kgmcabeebooks.com
The characters that populate Susan Lindsley's collection of short stories display human frailties we can recognize, laugh at, and forgive. These folksy tales are a delight to read.
Marcia Preston (M. K. Preston) author of The Spiderling 2020. www.marciapreston.com
Short stories are an art form that the average writer rarely masters. The ability to take a snippet of life, honing in on details, and taking a small part of living and making it a tale. Susan Lindsley shows us that art in her stories, with a talent that subtly draws you in. I read short stories one or two at a time, then put the book down to digest what I just read. It's a treat the next day picking up the book again and seeing what treasure I find, knowing it will be different from the night before, but the voice will be consistently reliable in its pleasure. Lindsley's stories have an everyday-feel about them, but by the end you realize she has a skill in how she interprets the world.
C. Hope Clark, author of the award-winning Carolina Slade Mysteries and the Edisto Island Mysteries
www.chopeclark.com
THIS BOOK IS AVAILABLE ON AMAZON
NONFICTION
Memoirs
Bluejeans and Pantaloons in Yesterplace
Re-Released! New Stories!
Her childhood was populated with such personalities as Flannery O'Connor, Susan Myrick (of Gone With the Wind), Charles Herty (UGA's first football coach and developer of paper from pine trees), as well as 76 horses, rustlers, political leaders, and moonshiners.
FROM THE AUTHOR
My second published book. First one was simply printed, a collection of poems called O YESTERPLACE AND OTHER POEMS, PRINTED 1,000 COPIES IN 2000. Sold out in less than 6 months.
I did not know other authors when Lee Clevenger took me on as a client, so no well-known names to praise it. Had Flannery been alive, she would have supported my book, as she supported my writing as I began to learn. She would, however, insisted that I delete the chapter about her.
AWARDS
First place, nonfiction, Southeastern Writers Association
PRAISE FOR BLUEJEANS AND PANTALOONS
Susan Lindsley's Yesterplace transports readers into a rural community that most of us never knew and those who did have forgotten. From bootleggers to society leaders, she creates real people. Her writing echoes with the sounds of possum hunts and trace chains, the smells of hayfields, magnolias and manure, and the beauty and sadness of country life.
Cecil "Cec" Murphey, author or co-author of more than 100 books, including the New York Times' best seller, 90 Minutes in Heaven.
I spent the afternoon reading, laughing and crying.
Johnny in Atlanta
You must have put super glue on the covers because I couldn't take my hands off it.
Faith in Jacksonville, Florida
You sure did capture Mama.
Fannie, Willie Mae's daughter
THIS BOOK IS AVAILABLE ON AMAZON
---
Possum Cops Poachers and the Counterfeit Game Warden
AWARDS
Finalist in Georgia Author of the Year Award, 2017
First Place, Top of the Mountain Award, Colorado Writers
Second Place, Royal Palm Literary Awards, Florida Writers Association
Second Place, Georgia Outdoor Writers Association
PRAISE FOR POSSUM COPS
"Susan is an amazing woman and her story is fascinating."
Cecil (Cec) Murphey, author, 90 Minutes in Heaven and Healing Hands as well as many other books
"For the real hunters, hunting is no hobby. Hunting defines them, nothing less. Susan has put her own hunter's self-definition on display in Possum Cops. Protection of the land and the wildlife it produces became for her as much of a goal as the pursuit of the as yet unseen buck that girdled the cedar."
Todd Holbrook, Deputy Commissioner, Georgia Department of Natural Resources (retired); CEO, Georgia Wildlife Federation (Retired)
"What a great read from an advocate for professional wildlife management. It is a series of short stories on the early years of deer hunting in middle Georgia. The book includes numerous tales on how a courageous lady deals with poachers on her property and many of her exciting hunting experiences. She was one of the premier conservationists in those years. Any hunter would enjoy her escapades." David Waller, Director of Wildlife Resources Division of the Georgia Department of Natural Resources (Retired)
"This book brings back many memories of a different time that everyone should be aware of. I am thankful we had landowners like Susan who would go the extra mile to do what was right. Her book is a definite 'must read' for anyone who appreciates our wildlife and natural resources."
Lt. Col. Bob Sires, Law Enforcement, Georgia Department of Natural Resources (Retired)
"Susan Lindsley is a genuinely unique voice with a lot to say. Her prose is evocative and her stories wonderfully engaging. Anyone who loves the outdoors will be a fan. Her work makes me think of John McPhee, one of the finest nonfiction writers of his generation. Her writing is captivating and her storytelling imaginative."
Don Vaughan, Writing instructor, freelance writer and author of more than 1700 nonfiction articles and writer, co-writer, contributor to or ghost writer of 32 books. http://www.donaldvaughan.net
"First thing I knew about Susan Lindsley was don't poach on her land. If you were lucky enough to survive, you went directly to jail. Love her stories."
Eddie Whitmire, Georgia Trophy Hunter
Biographies
Susan Myrick of Gone with the Wind
An Autobiographical Biography
Sue's life is told, from childhood to Hollywood, from high school teacher to award winning journalist, from early courtships to the death of her anticipated husband.
Her story comes from her own words—her diary, her letters to Margaret Mitchell, her twice-weekly columns that reflected childhood and day to day life.
Sue Myrick's diaries and her letters to her close friend Margaret Mitchell reveal a Sue that few people knew. Sue also recorded inside information about the cast and crew of GWTW and other Hollywood notables.
Illustrations include many photographs that Sue took on the sets of Gone With The Wind, and scores of Sue herself.
---
The Lindsleys of Westover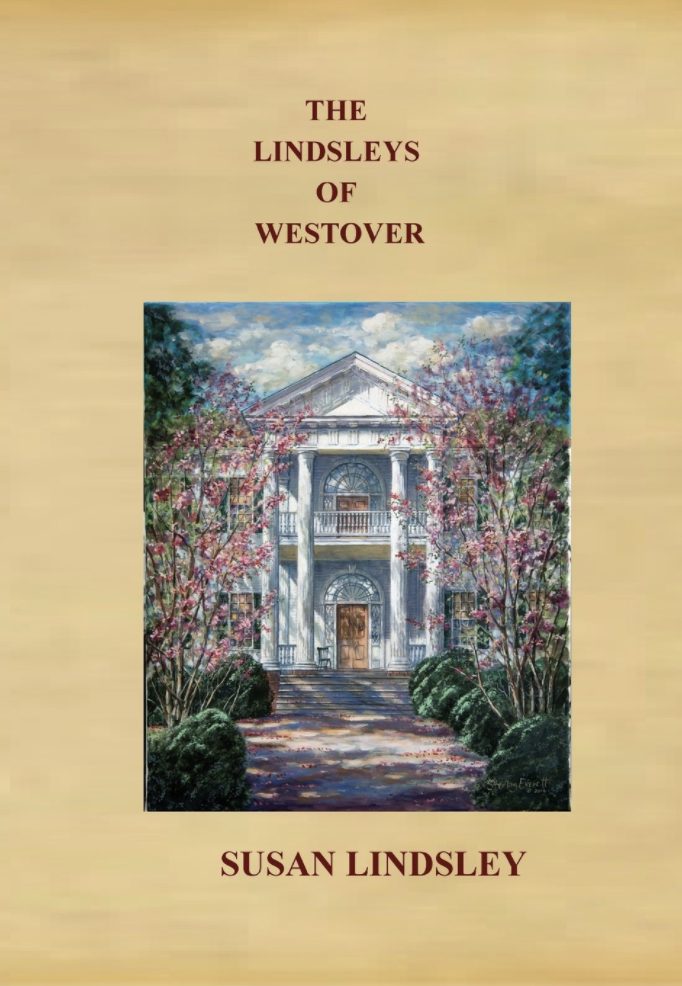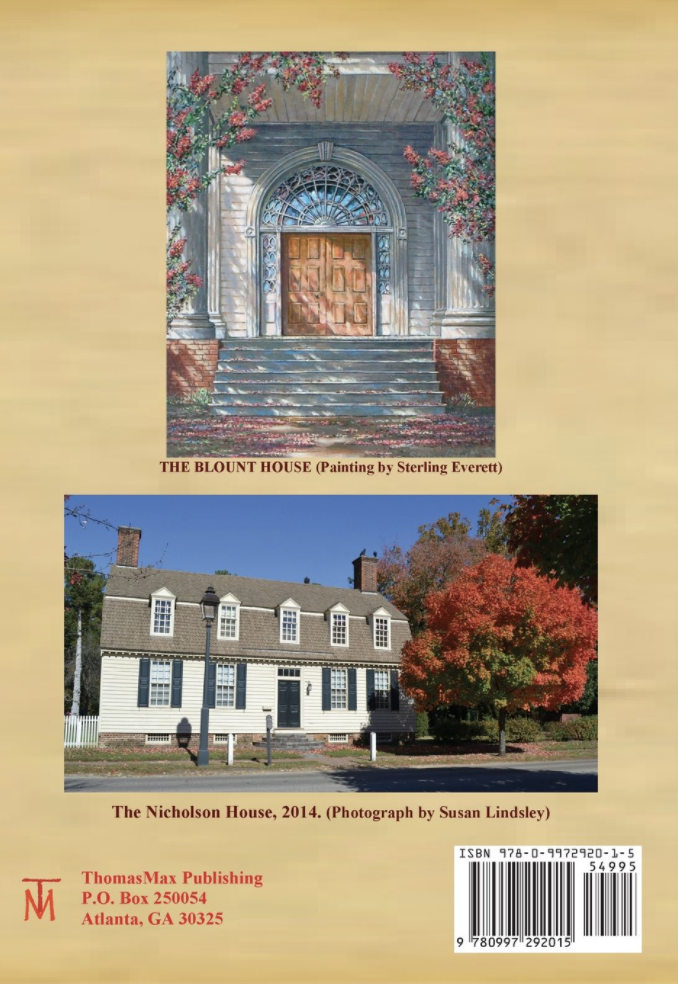 The lives of Luther Lindsley and his wife, born Lillas Myrick, are presented in this all-encompassing family history by daughter Susan Lindsley. Includes photos and other illustrations and information about other family members.
Poetry
Christmas Gift
Susan Lindsley puts forth a classic book of Christmas poetry in this illustrated collection. Family-friendly reading includes "A Deer with Funny Feet and twenty other poems to brighten anyone's holiday. The poems are illustrated. Some serious, some fun, some funny.
---
When Yestertime was Now
PRAISE FOR WHEN YESTERTIME WAS NOW
Susan Lindsley can write anything (and win awards!) but her poetry collections are first place with me…..Her poems have "life" and I can see, touch, smell, hear and taste as I read the lyrical, musical musings…so autobiographical, rich in precious memories and world class in composition. Remembered "takes" on her own life, become takes on the readers and our journey is richer for reading this author.
Peggy June Mercer BMI, Georgia Author of the Year, 2011
I enjoyed reading Susan Lindsley's book of poems and photographs, WHEN YESTERTIME WAS NOW, because I was immediately reminded of another favorite of mine, Marcel Proust's REMEMBRANCES OF THINGS PAST. Like Proust, Lindsley was able to revel in the joys of "yestertimes" and bring the reader along for the ride. I was moved by the great affection she had for the pony she loved; I could just see the sexiness of the summer and autumn leaves, and I felt humbled by the solemnity of her poems about graves and battlefields. Perhaps the most powerful piece was "The Morning After Your Death." Tears filled my eyes at the line, "You would have loved this day…" such poignancy! Susan Lindsley has a fine work here, and it is worth a read to remember many precious memories!
Dorothy Fletcher, Historian, teacher, columnist and nationally known poet, winner of the 2006 Robert Frost Poetry Contest and speaker at the Library of Congress' Poetry at Noon Series. Her works have appeared in more than eighty literary magazines. Her books include Zen Fishing and Other Southern Pleasures (poetry) and a children's book The Week of Dream Horses as well as others.
So many of those poems made me think of the freedom I had as a child, roaming the pastures and creek bottom on my pony. You and I had wonderful childhoods. Some poems made me cry. Wish June could have seen this.
Patricia Blanks, classmate, Librarian (retired) and first reader.
Read the title poem, When Yestertime Was Now. Winner of the Walt Whitman Award.
---
Whisper of Love
PRAISE FOR WHISPER OF LOVE
This assemblage of poems from Lindsley is an inspired venture into the charm of new love, love lost, and love remembered. Many float comfortably between poetic narrative and song, uplifting and lyrical: "I closed my eyes,/ caressed her soul,/ and stars, like legends, soared across the sky." I imagine them to be spoken aloud from one to another, on a languid evening in spring or a snowbound night in winter – one to another, when all that matters is that new love becomes old.
Louisa Branscomb, author of two poetry chapbooks, an icon in acoustic and bluegrass music. Distinctions include three International Bluegrass Association Awards, another six nominations, two Grammy cuts, 2014 IBMA Song of the Year ("Dear Sister"), 1993 SPBGMA Song of the Year ("Steel Rails"). Member of the Alabama Bluegrass Hall of Fame, the Atlanta Country Music Hall of Fame, and the 2017 recipient of the IBMA Distinguished Achievement Award. www.louisabranscomb.com
Whisper of Love is a moving collection of lyrical verse, many are elegiac homages to lost love; others explore discovering new love; haunting memories, all expressed with lyrical images of the natural world.
Libby Ware. Author of Lum (a five-star novel) and owner of Toadilly Books, an antiquarian book business.
---
Return to Yesterplace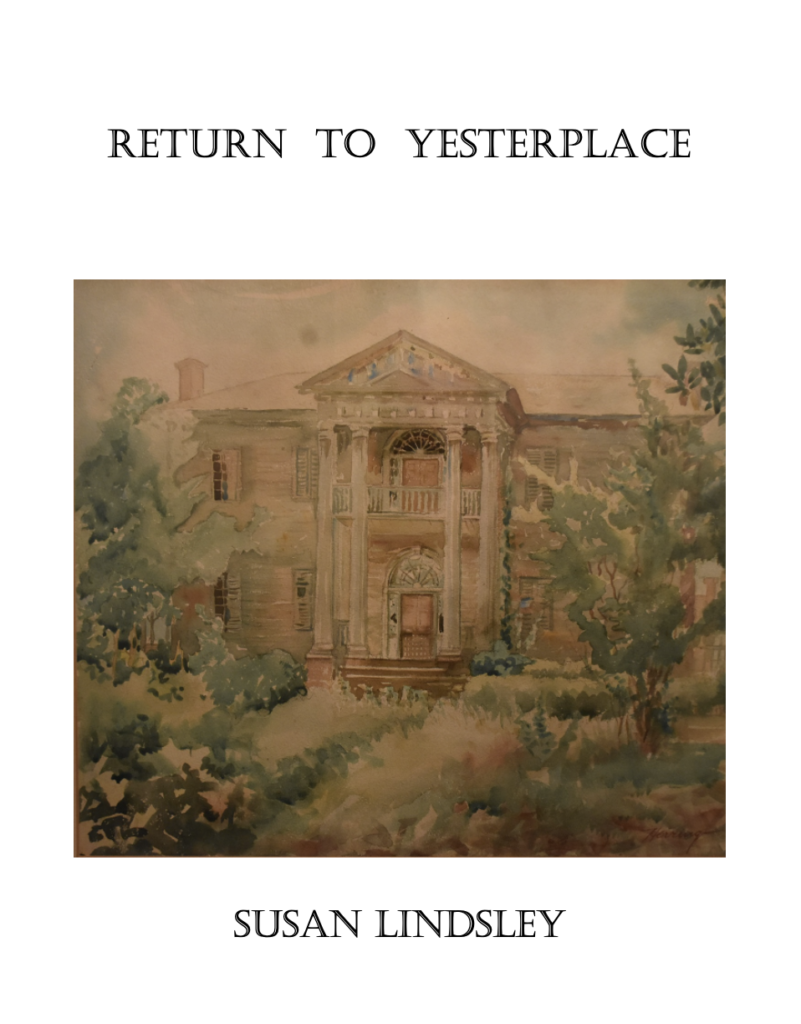 Susan carries the reader through the remembered yesterplace and provides her own quality photographs of the days and years, from her favorite daffodils and deer to the otter, elk and other critters she encountered as she roamed her local yesterplace where she grew up and also ventured across her greater yesterplace, her country.
If a picture is worth a thousand words, her words are worth a thousand pictures.
COMING SOON!
---
O Yesterplace and Other Poems
Susan took typed pages to a local printer and ordered 1,000 copies of the book, bound and ready to sell. From August 2000 through the next four months, the book sold out. She plans to re-issue the book, with illustrations, in the next year.
SPECIALTY BOOKS – PHOTOGRAPHY
Wildlife in Persimmon Paradise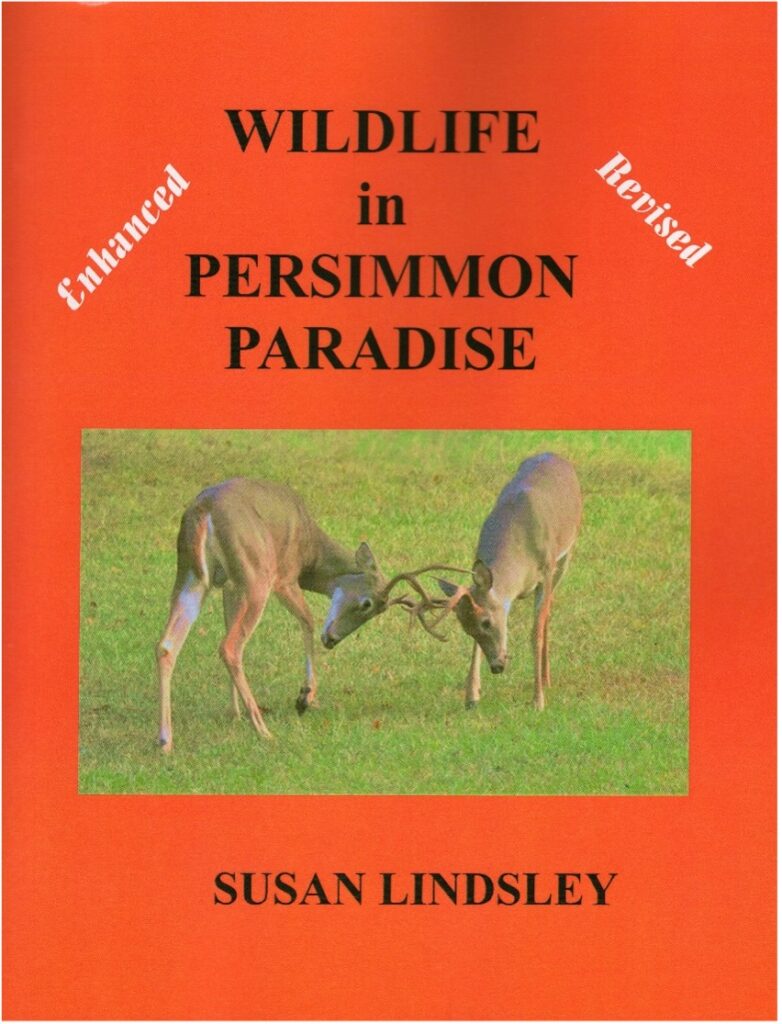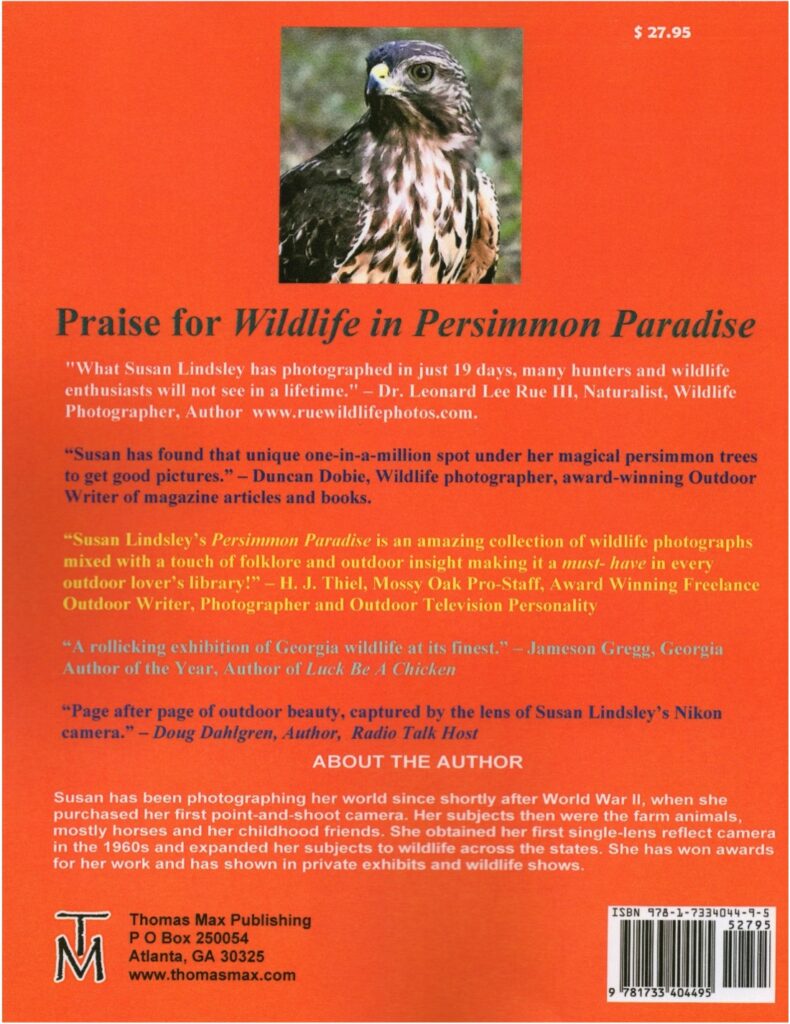 Available in soft back and hardback, this book takes the reader to a pictorial visit into seldom seen behaviors of a variety of wildlife, from courting bucks to dancing gobblers.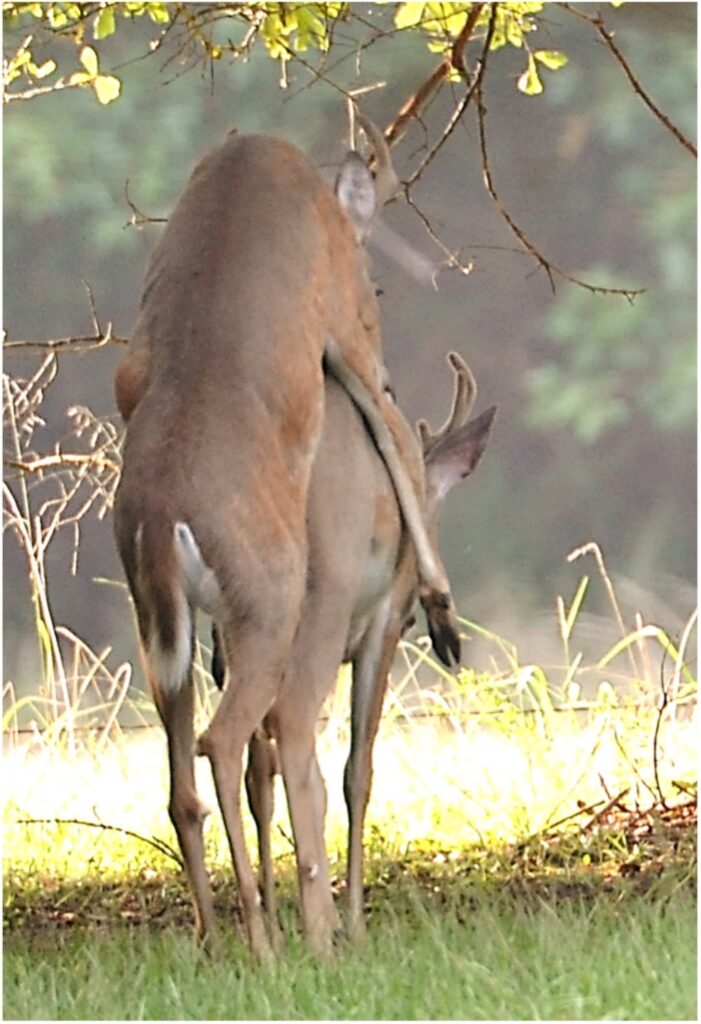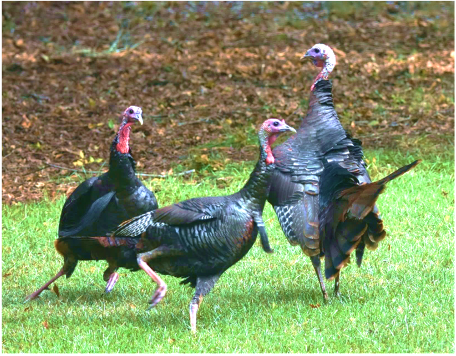 ---
Whitetail Secrets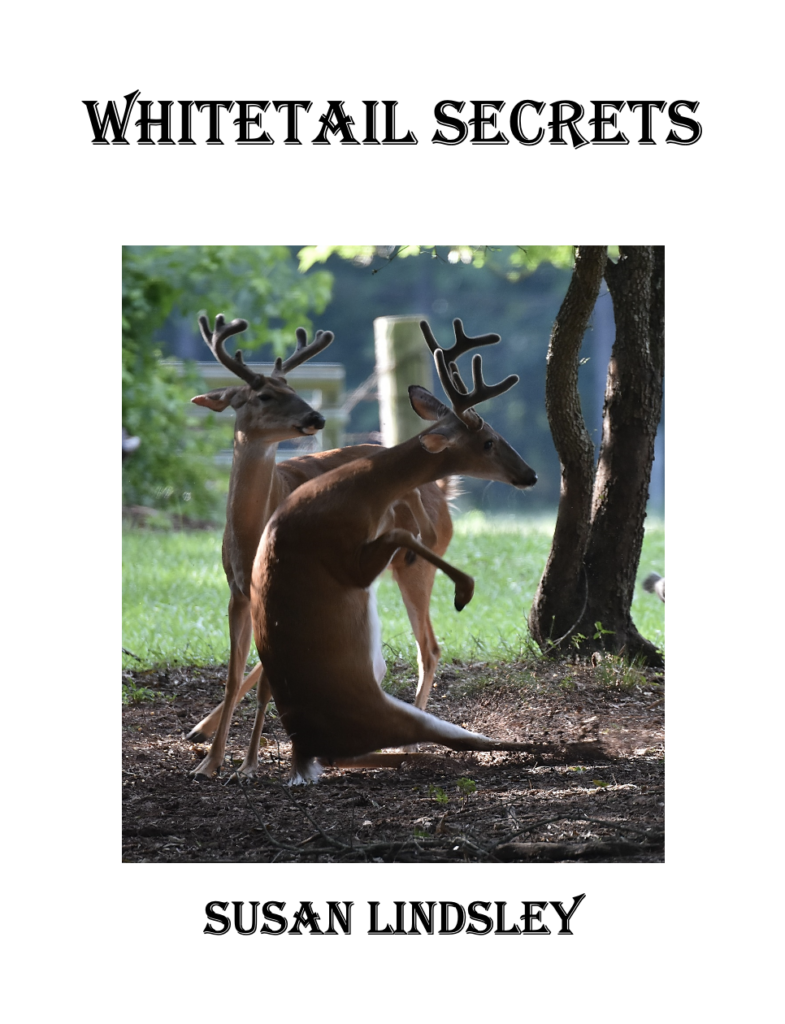 From autumn 2018 through 2021, Susan has spent every spare moment observing and photographing whitetail deer in the wild and has recorded behaviors most people never see…such as the buck fawn's developing sexuality to actual mating, the sequence of the courtship ritual, antlered bucks who still seek mother's milk, playful rumbles and serious competitions for the ladies. She has documented antler growth in several wild bucks, from the early appearance of new antlers in spring to the full rack of autumn. The reader will weep with her over the fatal injuries some deer stoically endure and laugh with her over the playful events of the whitetails' lives.
COMING SOON!
COLLECTION OF OTHERS' WORKS EDITED
Myrick Memories
From Plantation to Town: 1900 – 1960
Susan Myrick
Allie Myrick Bowden
Elizabeth Myrick Hubert
Lillas Myrick Lindsley
Learn about life on Dovedale Plantation, read a Susan Myrick short story, learn why the Myrick girls of middle Georgia loved Sherman, ride from Minnesota to Daytona Beach with the youngest girl, and discover how to make your Victrola play backwards.
​This book is available for purchase directly from Editor at the cost of $12.50 (includes S & H)

MAIL TO: Susan Lindsley
P.O. Box 33536
Decatur, GA 30033
---
Who was Margaret Mitchell?
Scarlett or a Melanie?
Susan Myrick wrote endlessly about "Gone With The Wind", her friend, Peggy Mitchell, the characters and their actors in the movie. This book is a collection of those articles with a special PLUS.
In the 1930's, Susan Myrick was able to interview and write lengthy feature articles about survivors of the War Between the States. Three of those are included: One about a Confederate veteran who speaks of near starvation and getting injured. Another one is a family whose matriarch is a former slave and has members of the next four generations living with her. The third family is a group of sisters who lost both parents during the war and continued, against social policy, to run their 600-acre farm themselves, without the help of anyone else.
A WORD FROM THE PUBLISHER
You are reading one of two prize-winning entries from the 2012 ThomasMax "You Are Published" Contest, which is held annually in conjunction with the Southeastern Writers Association's annual conference and workshop held each June. This is not a self-published work, but rather one chosen from numerous contest entries. The award has been given since 2006. No award was given in 2011, as the winner had to decline because she was under contract to an agency.
WORDS FROM THE EDITOR
This book is a collection of articles Susan Myrick wrote over the years about her friend Peggy Mitchell and Gone With the Wind, both the book and the movie, and contains three feature articles about survivors of the War Between the States. The title article was prepared in 1983 by the editor from Sue's diary and from her notes on an article she had begun.
​Except for the title article, the stories about Mitchell and GWTW are given in chronological order. There is some repetition, especially in the two reviews of Richard Harwell's book Margaret Mitchell's Gone With the Wind Letters. All articles are included in full because, in spite of the repetition, each one stands alone and contains some information written (or delivered) for different audiences.